As you know, I am ALL about using the purest, organic, most natural and crulty-free products and living the healthiest and happiest life possible. I am always eager to share new things with my friends and I want to keep expanding and share not only food/recipes but also beauty, fashion, travel, home decor and any other aspects of my healthyhappy life!
I'm excited to share with you some very lovely products I received for review…I have to say, I am very impressed by these 3 full size items I got from Amaki Skincare! Not only are they visually beautiful, they smell amazing and actually are very effective.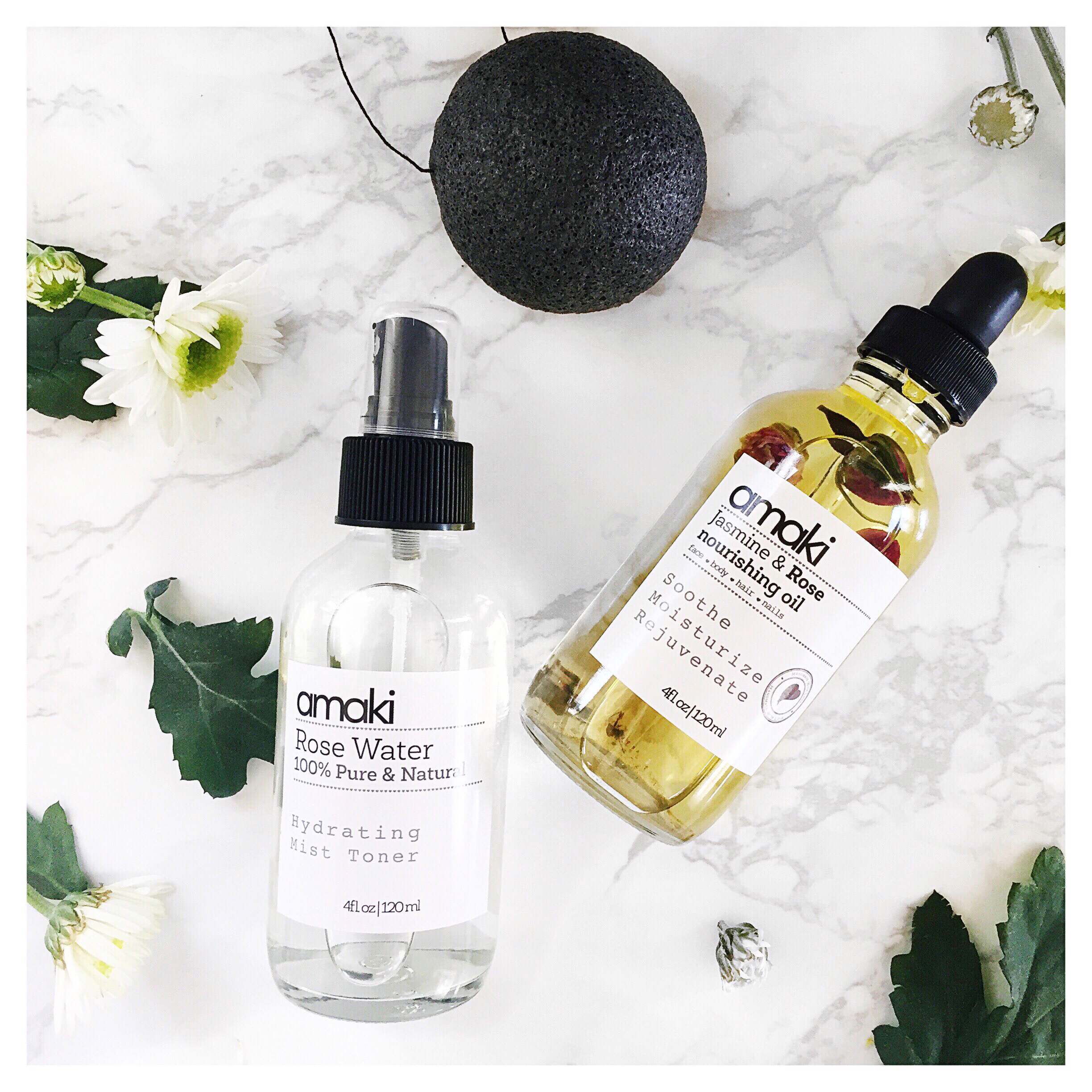 Amaki skincare is a family owned business and started by a certified esthetician. The products were created to help heal imperfections and leave skin soft and glowing. I love that all ingredients are organic and sourced in the USA!
They sent me a 3 piece set which is part of a really great Mother's Day promotion they are running. Products are normally $51 but this set is only $37. Well worth it for a gift or for yourself! It comes in the cutest box and packaging all ready to go!
Here is an honest review of the products and my thoughts!
The first product I tried was the refreshing Rose Water Mist Hydrating Toner: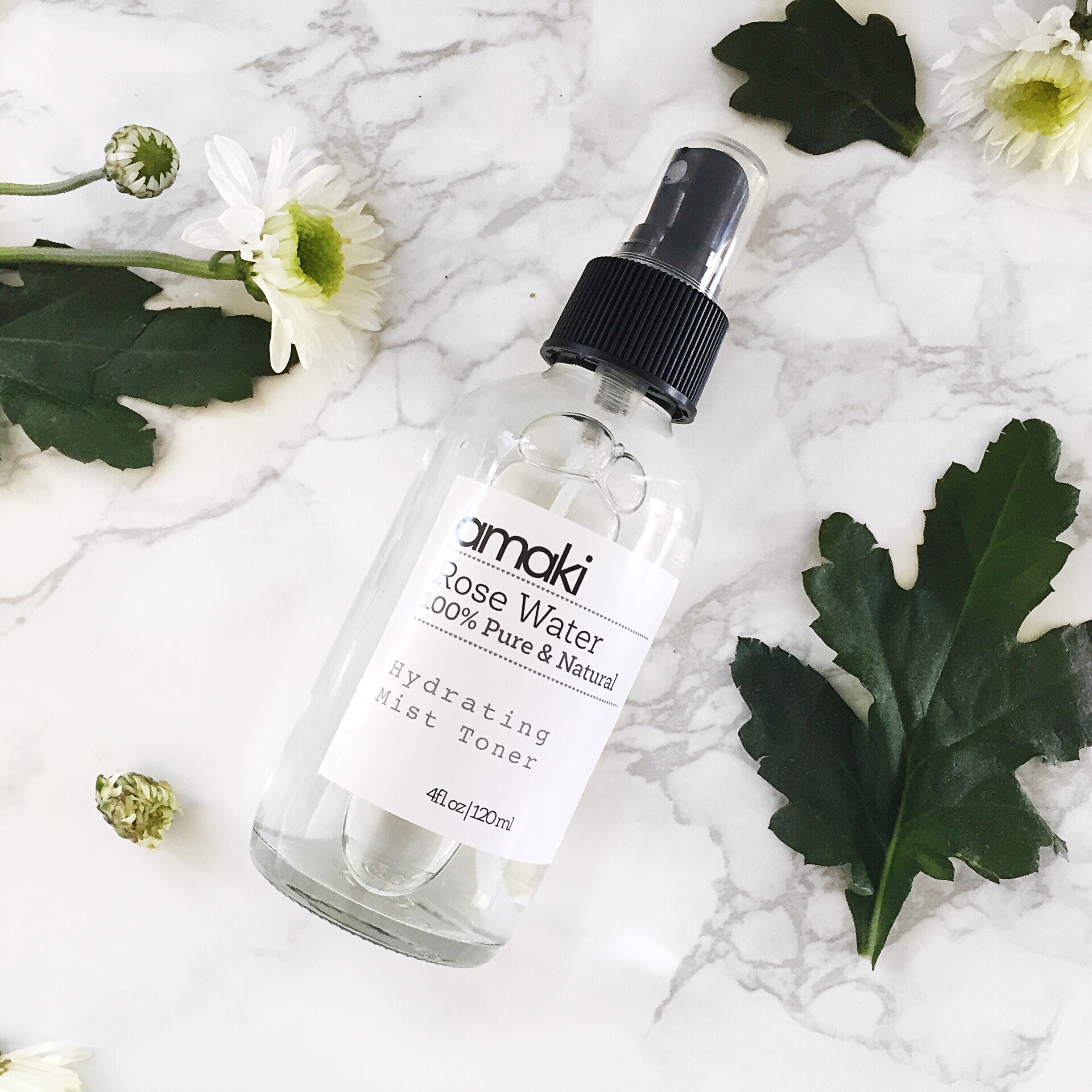 What is it? 100% pure distilled rose water
What it does: Refreshes, tones and hydrates the skin
How to use:
Makeup Setter/Refresher: Use it after cleansing before your moisturizer to help your moisturizer work even better.
You can also apply it after foundation (before powder) to set your makeup.
Spritz on face ANY time of day to refresh your makeup!
I've used it all the above ways and I absolutely love it! It smells so heavenly and really helps to keep my skin soft and helps with the occasional flakiness I get while wearing makeup.
Hair Treatment: After shampooing, use it as a final rinse to soft and refresh hair and leave it smelling amazing for hours.
Facial Mask: Mix rose water with bentonite clay for the ultimate face mask. (I can't wait to try this one!!!)
Eye Brightener: Soak cotton pad with rose water and place under eye for a few minutes to relieve puffiness and redness!
So awesome to have this stuff on hand!
Overall Thoughts: I enjoy this product so much! I've heard about rose water toners for years but never owned one. I have had facials where it would be spritzed on my face and it always felt like such a treat! Now I can do it anytime of the day and not only does it really refresh my skin, it brightens my mood too!
Next item is the Konjac Facial Sponge: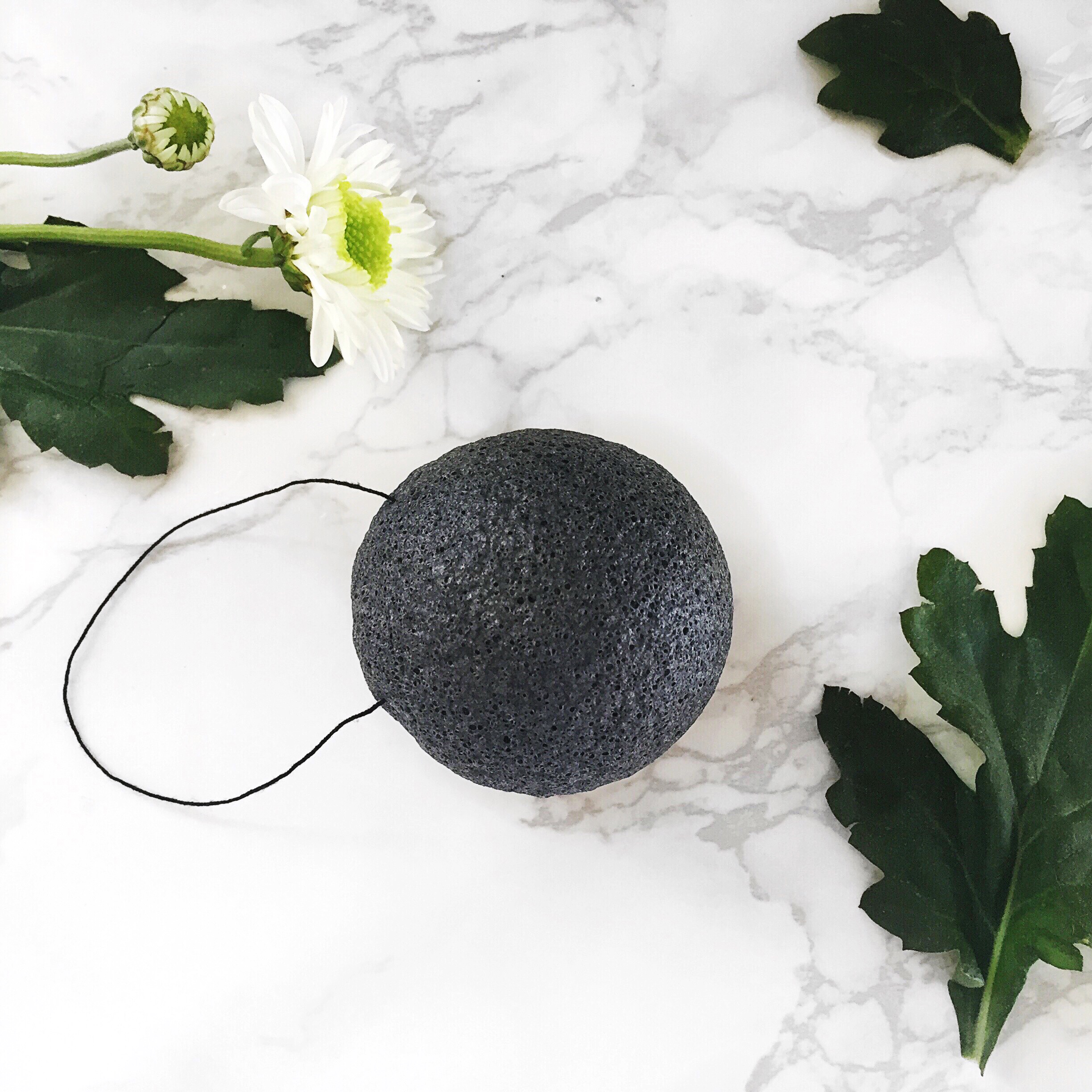 What is it? Natural biodegratable charcoal facial sponge
What it does: Cleans and removes all makeup while gently exfoliating and drawing out impurities in the skin.
Added charcoal helps to wash away blackheads and whiteheads.
How to use: Soak it under warm water to soften and massage onto face with or without facial cleanser.
Overall Thoughts: I really like this sponge! I've even been using it in place of my Clarisonic Mia. It feels gentle but it does a great job of getting rid of dead skin and congestion. I tend to have to exfoliate quite a bit because I am prone to congestion and also rosacea, which makes exfoliating tricky. I find that using this sponge doesn't flare up my rosacea but does a great job of exfoliating. It is also very cute and fun to use, it comes with a little suction cup that you can hang near your sink!
Next up is the Jasmine & Rose Nourishing Oil: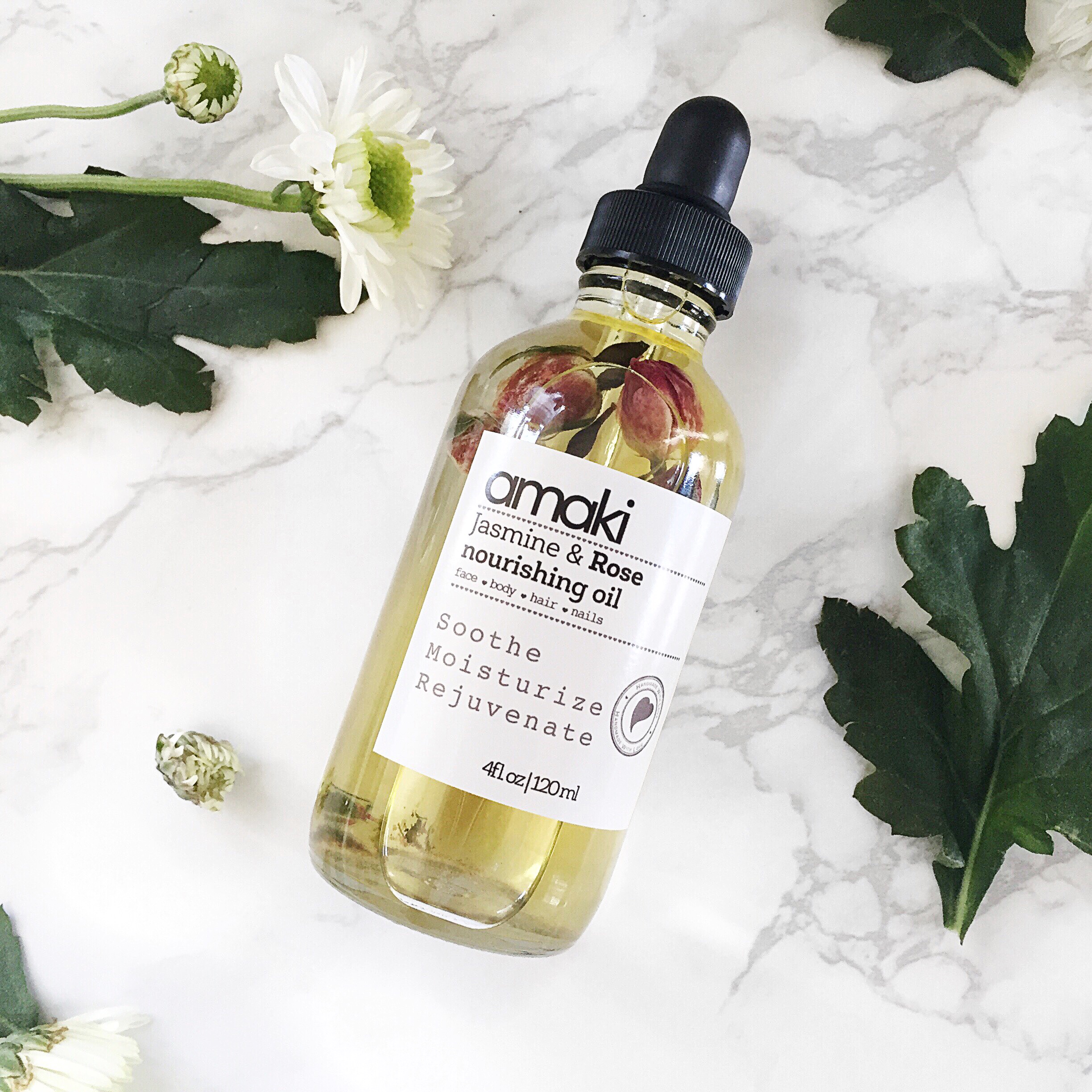 What is it? Made from the highest quality evening primrose oil, jojoba oil, sweet almond oil, argan oil, rosehip oil, bergamont essential oil, rose geranium essential oil, jasmine essential oil and rosebuds.
What it does: Lightweight oil is quickly absorbed leaving skin balanced and hydrated.
How to use: This oil is gentle and nourishing for face, body, hair and nails!
Overall thoughts: If you know me, you know that I LOVE jasmine, almost anything jasmine. Combine that with pure organic oils and essential oils and beautiful rose, well, I just feel like a princess using this. It is NOT greasy at all! I use it on my face and hair and it hydrates perfectly. It makes my hair really shiny and smells SO GOOD!
Thank you so much for stopping by and checking out my review! If you are looking to try some new organic products and want to feel pampered I definitely recommend this line. Also, I feel like anyone would love this as a gift and could get a lot of use out of it! These products are definitely sparking joy in me while using and looking at them 😉
Amaki Website: Amaki Skincare
Here is the Mother's Day gift set: Mother's Day Gift Set
LOVE!! jess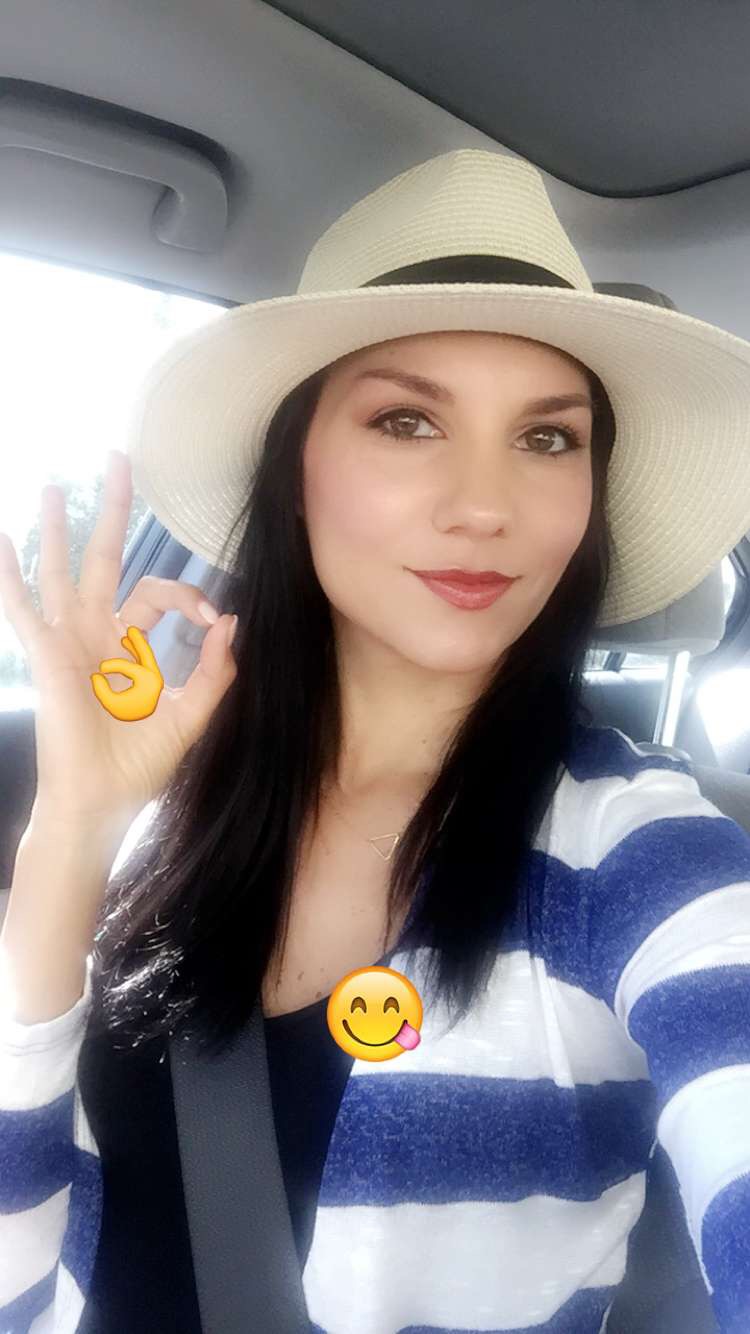 Jessica Remmers