This was a very special Thanksgiving…
because it was the first time I've cooked an entire vegan + gluten-free meal for the entire family and shared with them just how delicious it can be, even on a Holiday! Since I wouldn't be cooking a turkey, I wanted to make sure each dish was nutritious, flavorful and extra special. I scoured the internet looking for what seemed to be the most palatable, tried and true recipes from some awesome websites. Some of the recipes I followed very closely and others I was more flexible. I will detail for you the preparation for each dish with pictures and lead you to the websites where I got the recipes…
I have to say, this dinner was an absolute success…the recipes were simple, no crazy mishaps in the kitchen, and most importantly everyone thoroughly enjoyed the food! There was a lot of gratitude going around that day and I think people felt really good knowing what they were eating was not only tasty, but healthy for them too. We all felt pretty awesome after the food, which is not how I usually feel after Thanksgiving. At the end of the day, it feels really good knowing that no animals where harmed in making this meal! 🙂
Okay! Let's get to the menu:
Edible, Tangy, Crave-Worthy Kale Salad
Peas with Fresh Dill
Roasted Green Beans
Mashed Yukon Gold Potatoes
Mushroom Gravy
Lentil Mushroom Walnut Balls
Food Babe's Cranberry Sauce
Vegan, Gluten-Free Skillet Cornbread
Pumpkin Pie with Gluten-Free Pecan Crust
Snacks:
Organic Corn chips and Salsa
Olive Oil Potato Chips + Assorted Veggies with Organic Hummus
Side Note: We had about 8 people total for the dinner, it still yielded some left overs and I doubled or adjusted a few of the recipes as noted to accommodate everyone.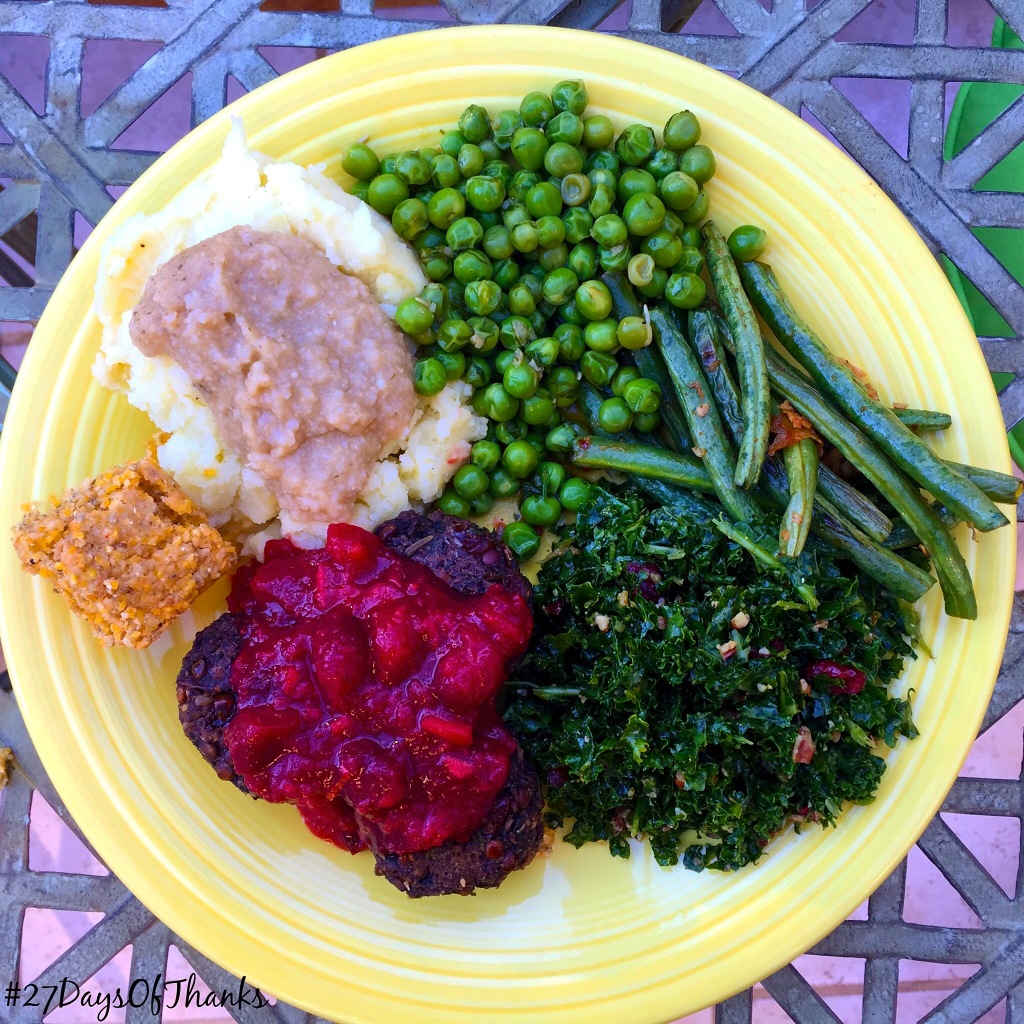 Preparation:
On Wednesday I hit up Trader Joe's and Whole Foods and picked up all the ingredients I needed for the recipes.
When I got home I prepared the Lentil Walnut Mushroom Balls and set aside in the refrigerator to bake on Thanksgiving Day.
Next up, I made the pumpkin pies (the recipe recommended leaving them in the fridge the night before).
Lastly, I made the cornbread, which may or may not have been a bad idea because I couldn't stop eating it the night before…shhhh 😉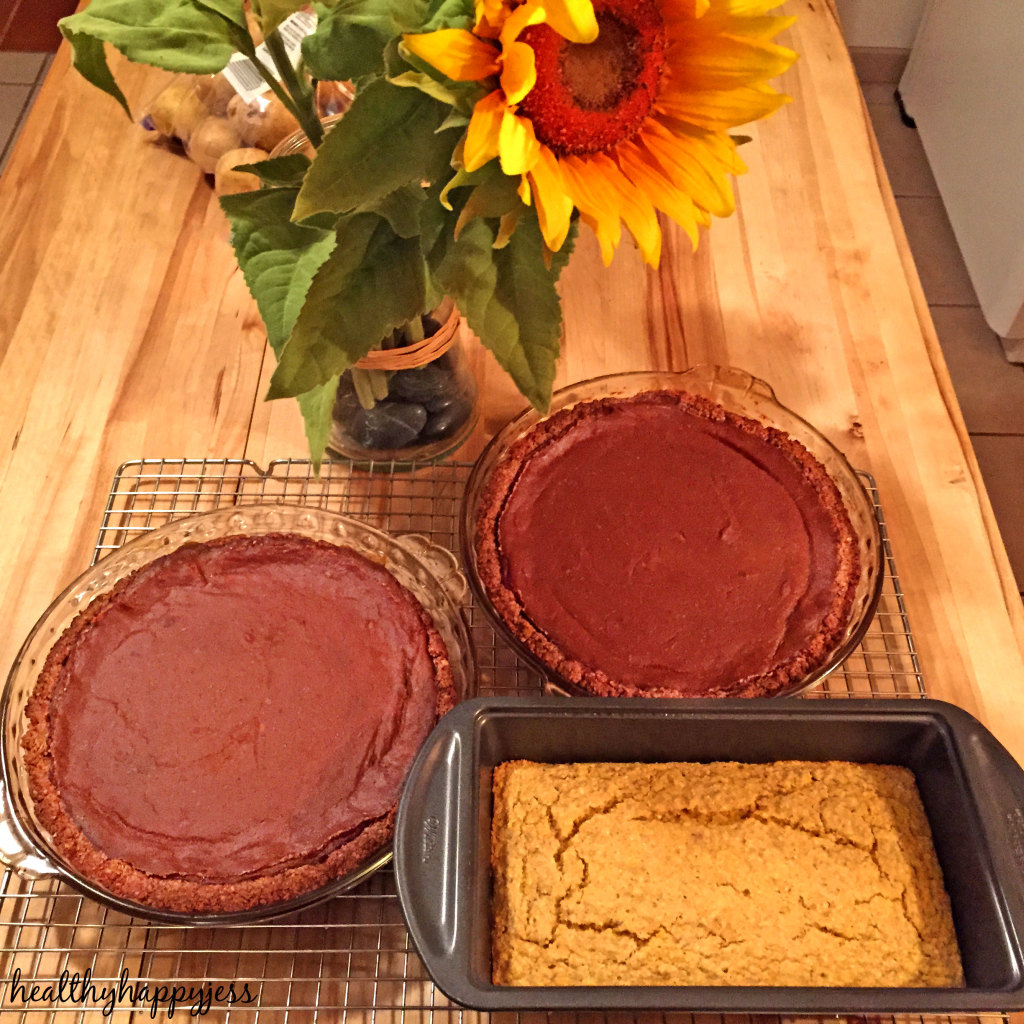 Thanksgiving Day:
Kale Salad:
Prepared the Kale Salad and set aside in the fridge until we set the table. This is a simple recipe and mainly requires de-steming the kale leaves and then massaging them with half the dressing before tossing the rest of the dressing and ingredients on top. I ended up using my food processor to chop the kale leaves instead of cutting them with a knife, either one works, I just wanted it to be as simple as possible.
Recipe on my blog: > Kale Salad Recipe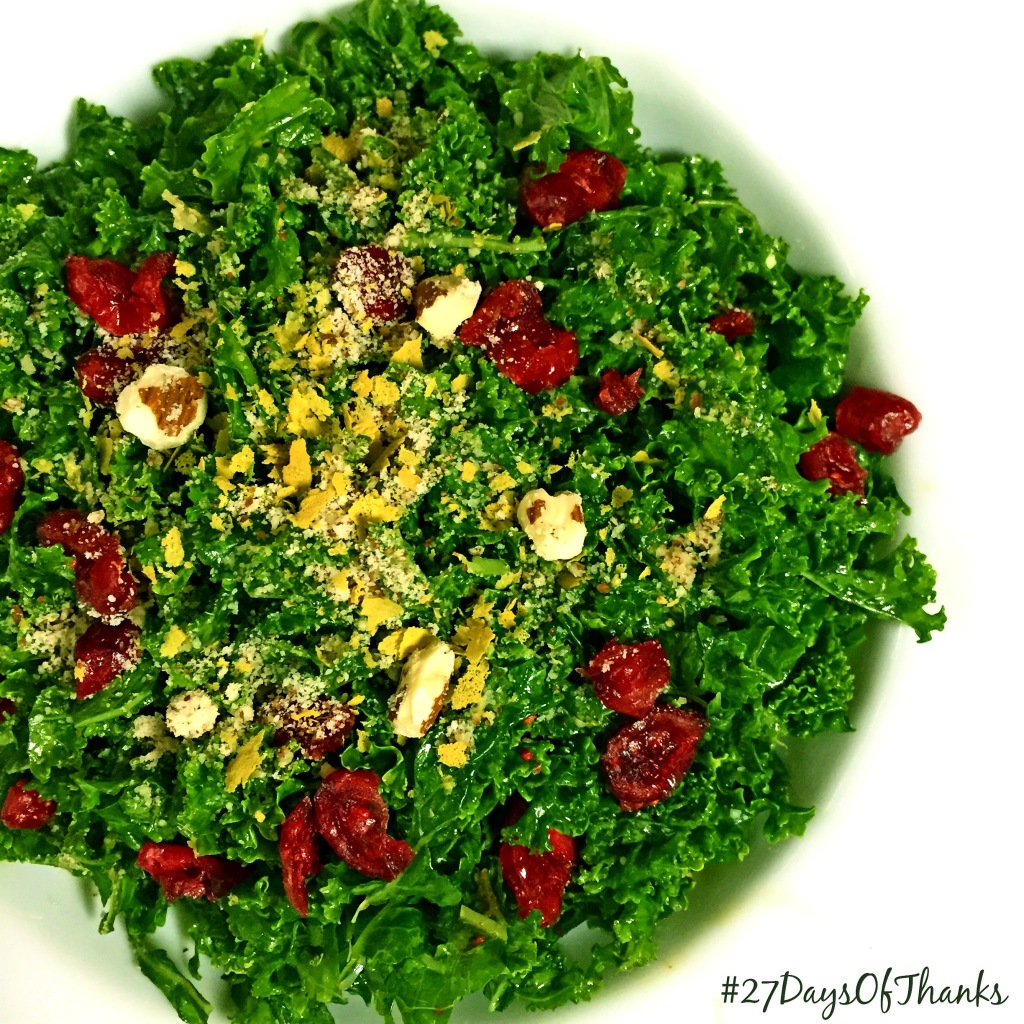 Mushroom Gravy:
I prepared the mushroom gravy (while preparing the cranberry sauce) and set aside. This is the healthiest gravy you can get! This recipe makes a lot of gravy, it could even stand alone as a soup if you wanted it to. The recipe link below is for mashed potatoes and gravy but I only made the gravy from this recipe, I made my own mashed potatoes which are super easy, and I will post as well.
Recipe from Forks Over Knives: > Mushroom Gravy Recipe
Cranberry Sauce:
This cranberry sauce is such a treat! It's so fruity and delicious it honestly could stand on it's own as a dessert. I had fun munching on it while I was cooking everything else. I think I may have doubled the recipe so I'm not sure I followed it precisely, but it still turned out beautifully.
Recipe from Food Babe: > Food Babe's Cranberry Sauce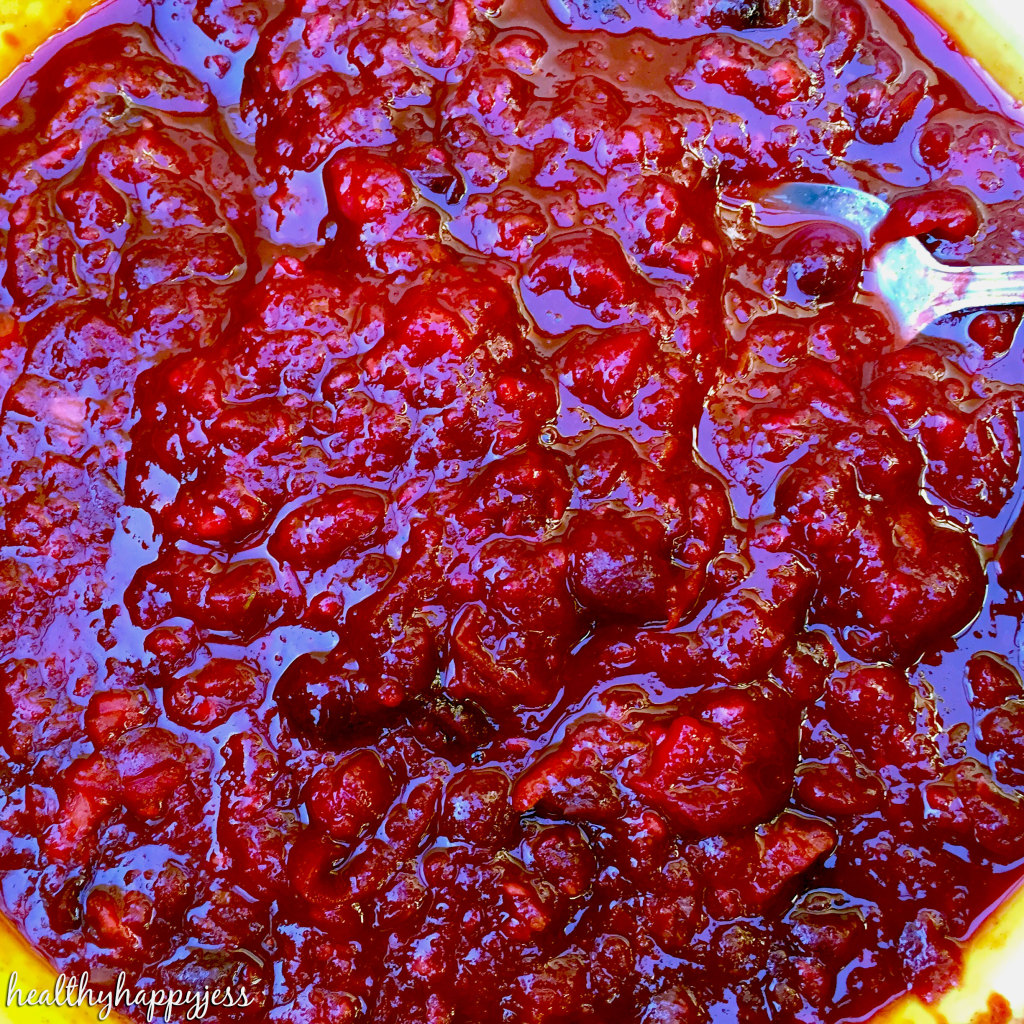 Peas with Dill:
Made the peas then set them aside. For this recipe I followed it pretty loosely. I got two packs of peas from Trader Joe's (in the refrigerator section) and I used garlic instead of scallions. This dinner would not have been the same without them, they were so good, especially with that fresh dill!
Recipe from Veggies Don't Bite: > Peas with Scallions and Dill Recipe

Roasted Green Beans:
I have never baked green beans before, I usually sauté them in the skillet, but I wanted to try it to help simply the preparation. Although, they were tasty I still prefer using the skillet to make green beans. I prepared them on the cookie sheet until right before dinner then baked them.
Note: This original recipe was not vegan, but I modified it to make it vegan by skipping the parmesan cheese.
Note: I also always add a bit of spice (cayenne or red pepper flakes) and a bit of GF low sodium soy sauce to my green beans as well as garlic.
Recipe from Skinnytaste.com: > Roasted Green Beans Recipe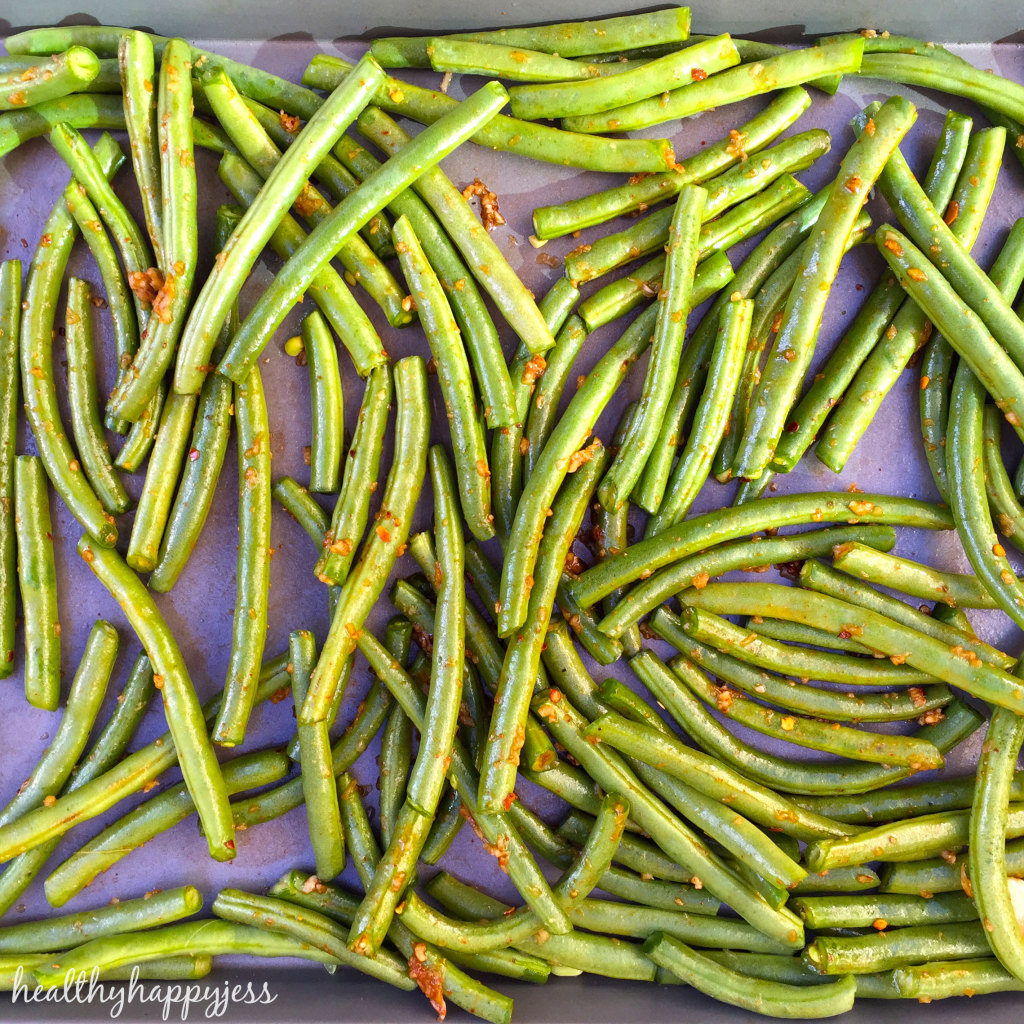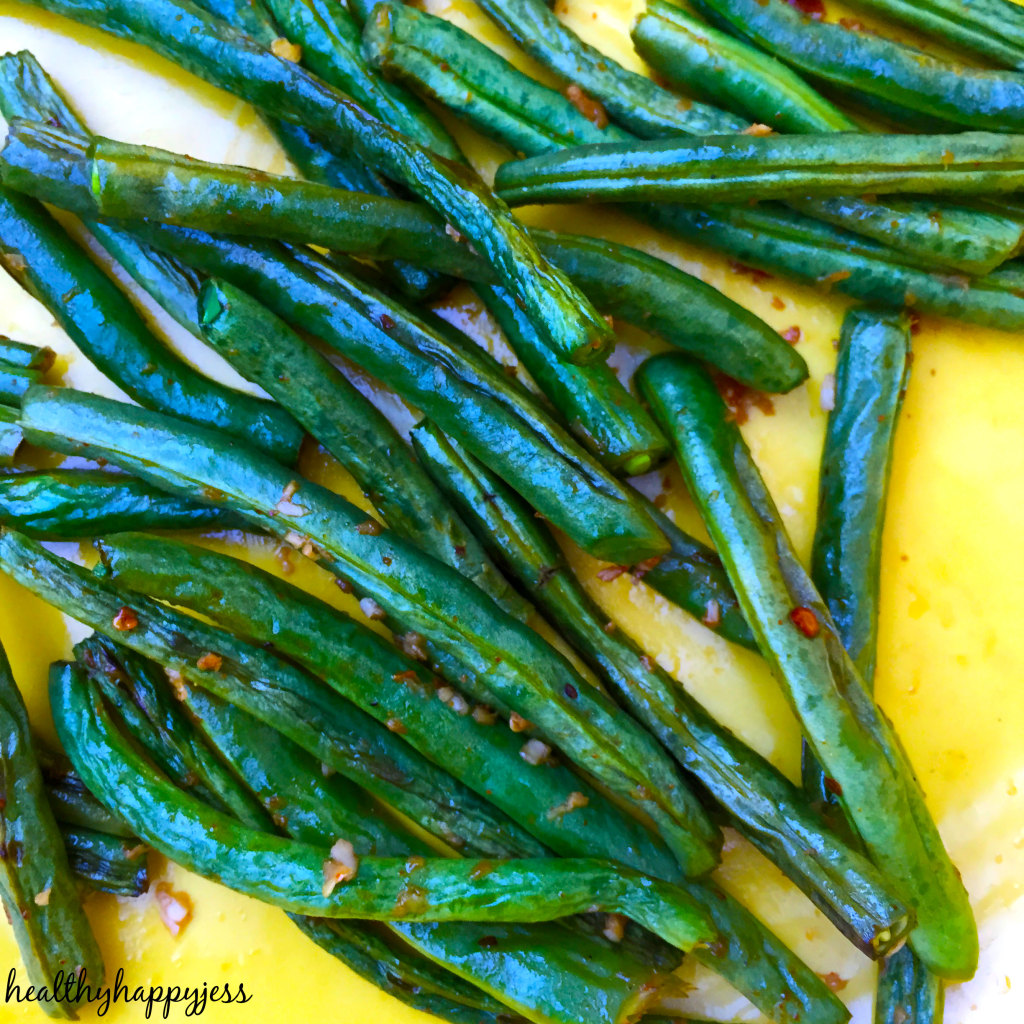 Mashed Potatoes:
The very last thing (while simultaneously baking the lentil balls) was to steam the potatoes for mashing. I use the most simple recipe to make mashed potatoes and it is always delicious, low fat and healthy.
Recipe: Simply Steam Yukon Gold Potatoes (they are the most buttery and naturally creamy) then drain and set aside. In the same pot you steamed the potatoes add a few cloves of garlic along with a few tablespoons of Earth Balance and sauté for a few mins. Then add the potatoes back into the pot with a splash of unsweetened almond milk and then mash! You can add a sprinkle of salt and pepper as well.
Lentil Mushroom Walnut Balls:
All I had to do was pull out the balls I had prepared the night before from the refrigerator and bake them for about 30 mins. total. I baked them with the green beans while I was making the mashed potatoes. These balls are absolutely amazing! Such a treat, they are the perfect holiday main course and tasted delicious with the cranberry sauce.
Note: I did not make the cranberry sauce in the recipe below, I made Food Babe's Cranberry sauce listed above.
Note: I doubled her recipe to make enough for about 8 people.
Recipe from Oh She Glows: > Lentil Mushroom Walnut Balls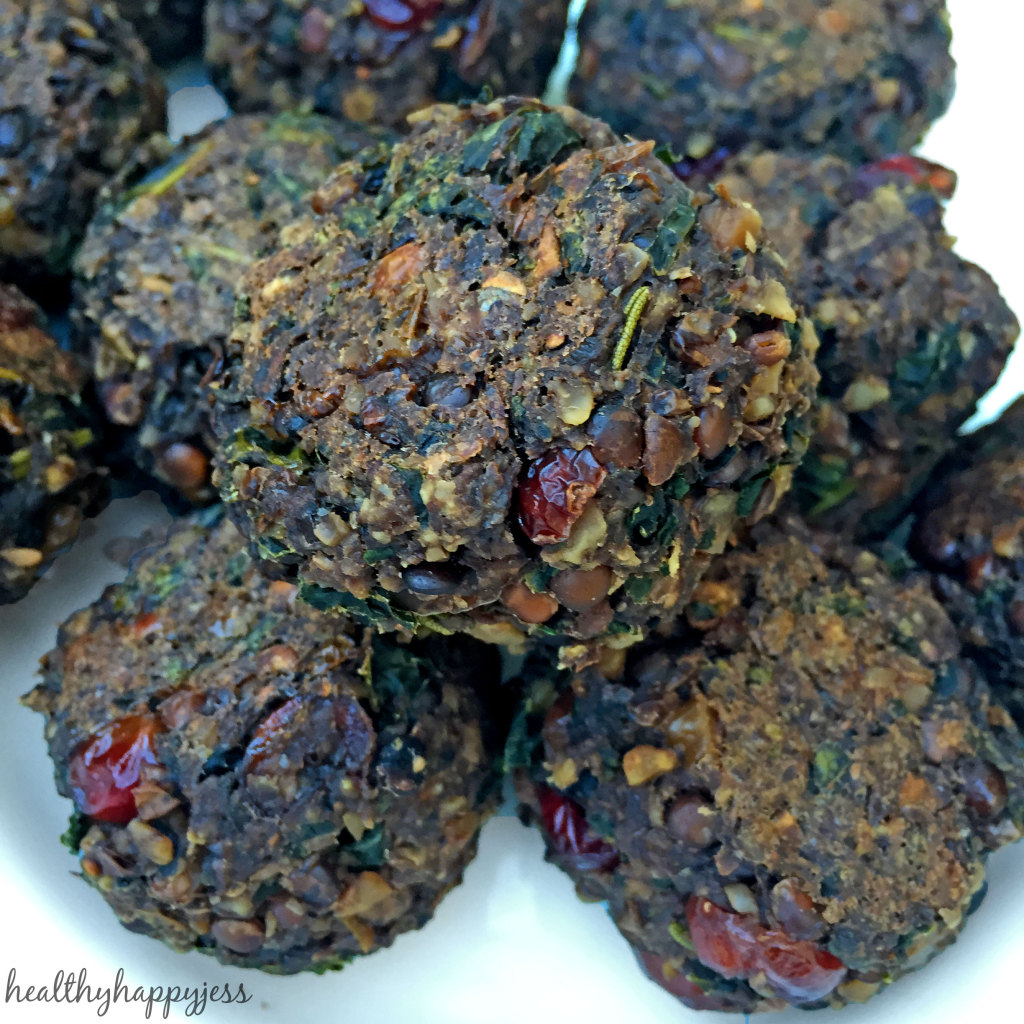 Cornbread
Since I made the cornbread the night before, all I had to do was cut it up in little squares and put it in a basket. I absolutely love this cornbread recipe. It had been so long since I had cornbread and this is truly delicious…I will be making it a lot more in the coming weeks!
Recipe from Keepin' it Kind: > Vegan, Gluten-free Skillet Cornbread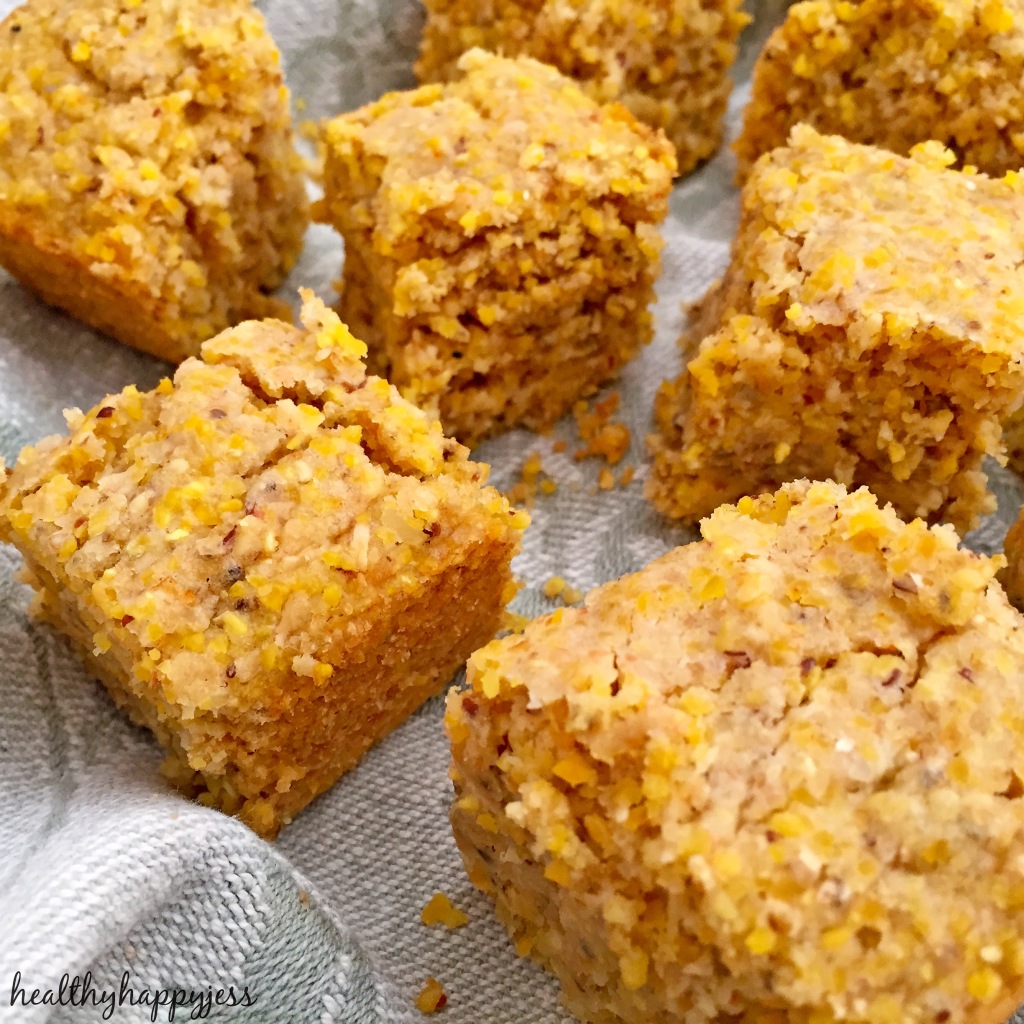 Pumpkin Pie
Last but not least we have my favorite part of the meal, the gluten-free, vegan Pumpkin Pie! This was the best pumpkin pie I have ever had and many other people agreed. In particular, everyone loved the crust! I followed this recipe pretty closely and I would recommend it to anyone…As a matter of fact, a few people are waiting on this so here it is! I will definitely be making this again for Christmas! As I mentioned earlier, I made it the day before and pulled it from the refrigerator before serving.
Note: I doubled the recipe and made two pies, you will definitely want to do the same 🙂
Note: I also made very simple Coconut Cream Whipped Cream to put on top. To make I used whole fat coconut cream that was chilled in the refrigerator the night before and with out any guar gum. Just whip the solid part (set aside water from can) with a little bit of vanilla extract and maple syrup.
Recipe from Oh She Glows: > Pumpkin Pie Recipe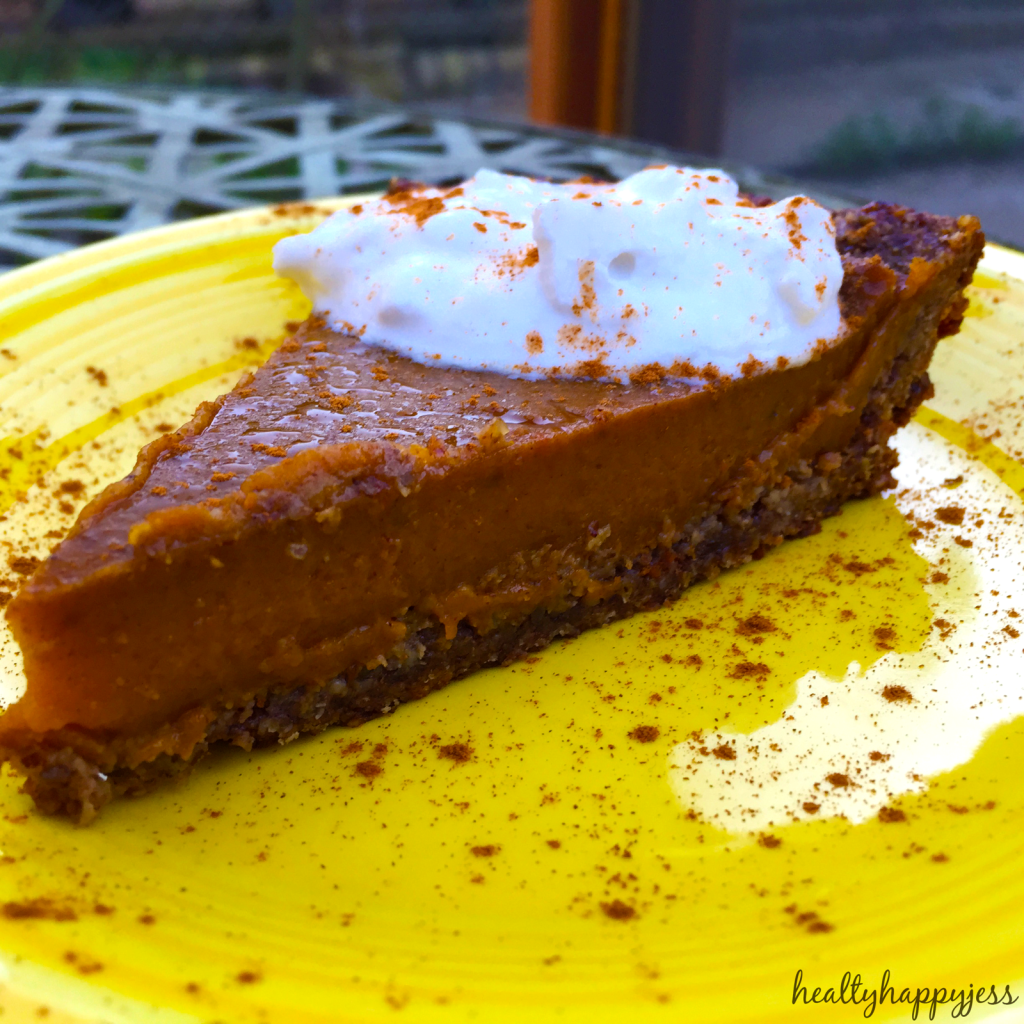 I want to take a moment to thank my Mom and boyfriend for all their help! I would not have been able to do it without them! Thank you!!
And Thank you all for stopping by! I'd love to hear your thoughts, questions or comments on your very own Thanksgiving!
I hope you try some of these recipes for, perhaps Christmas coming up? Or next Thanksgiving. I also hope you feel inspired to try doing your own cruelty-free, healthy, plant based Holiday meal!
Love,
Jess ♥