This is my new favorite go-to soup at the moment!
I love pairing it with a kale salad (see my recipe for the best kale salad here) you will feel warm, healthy and wonderful after this meal!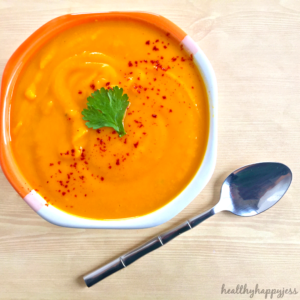 Easiest Tasty Butternut Squash Soup
2015-01-19 12:15:56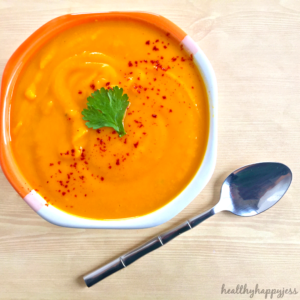 Delicious, easy butternut squash soup recipe that is healthy, vegan and gluten-free!
Ingredients
2 bags of Trader Joes Butternut Sqash cubes or 1 med/large whole Butternut Squash
1 large Honeycrisp Apple
1/2 cup of full fat coconut cream
2-4 garlic cubes
1 tbsp. olive oil (or veggie broth)
1 inch of fresh grated ginger
red pepper flakes
garlic powder
nutmeg
salt & pepper or (cayenne)
1 Carton of Veggie Broth
Optional: add 2 sweet potatoes, turmeric, or fresh herbs
Instructions
Steam- Throw both bags of butternut squash in a pot to steam along with your cut up and peeled honey crisp apple.
While it is steaming get a separate pan and put olive oil, minced garlic, grated ginger and all seasoning and begin to sauté it lightly until it starts to bubble, turn down heat and add coconut milk.
Once the cream is broken down, stir together all ingredients and remove from heat and set aside.
When your butternut squash is done (fork should easily press through) remove from heat, drain, rinse with cool water and then throw it in your blender along with cooled coconut milk seasoning.
Blend together with your cold Veggie Broth till desired thickness
Transfer this mixture into your large pot and heat!
healthyhappyjess https://www.jessicaremmers.com/