Man this was tasty!
It seems as thought the best creations come together when not knowing ahead of time what I'm going to make and also being in a hurry.
It just goes to show it doesn't always take a lot of money or time to eat healthy plant-based foods!! It does help to have your staples handy though…Speaking of, want an easy guide of must-have staples to always have in your kitchen? Just put your email address in the line at the top and I will send you a "getting started" grocery list!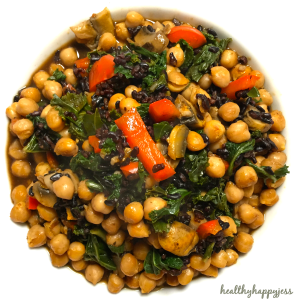 Bowl of Chickpea Mushroom Yumminess
Start cooking your rice (I used black rice, but any rice will do or quinoa)
Wash and chop your veggies and start steaming (I used kale and red bell peppers)
In the mean time chop up some organic white mushrooms and put them in a pan with broth and seasonings- I used fresh chopped garlic, red pepper flakes, cayenne pepper, gluten-free soy sauce, garlic powder. Cook down until the mushrooms are shrunk, you are essentially making a concentrated mushroom stock to pour over all the ingredients this will give the dish the most flavor and a broth, light gravy-like consistency.
Saute some beans (I used chickpeas because I'm obssesed) in veggie broth and seasonings.
When everything is cooked stir everything together or layer one in a time in your bowl. Above I mixed the rice, steamed veggies and mushroom broth together in a bowl and then topped with the chickpeas.
* You can top the final dish with salsa, nutritional yeast or fresh avocado!
This meal is healthy, gluten-free, vegan, filling and satisfying; you can use so many variations based on what you have on-hand and what you might be craving at the time.