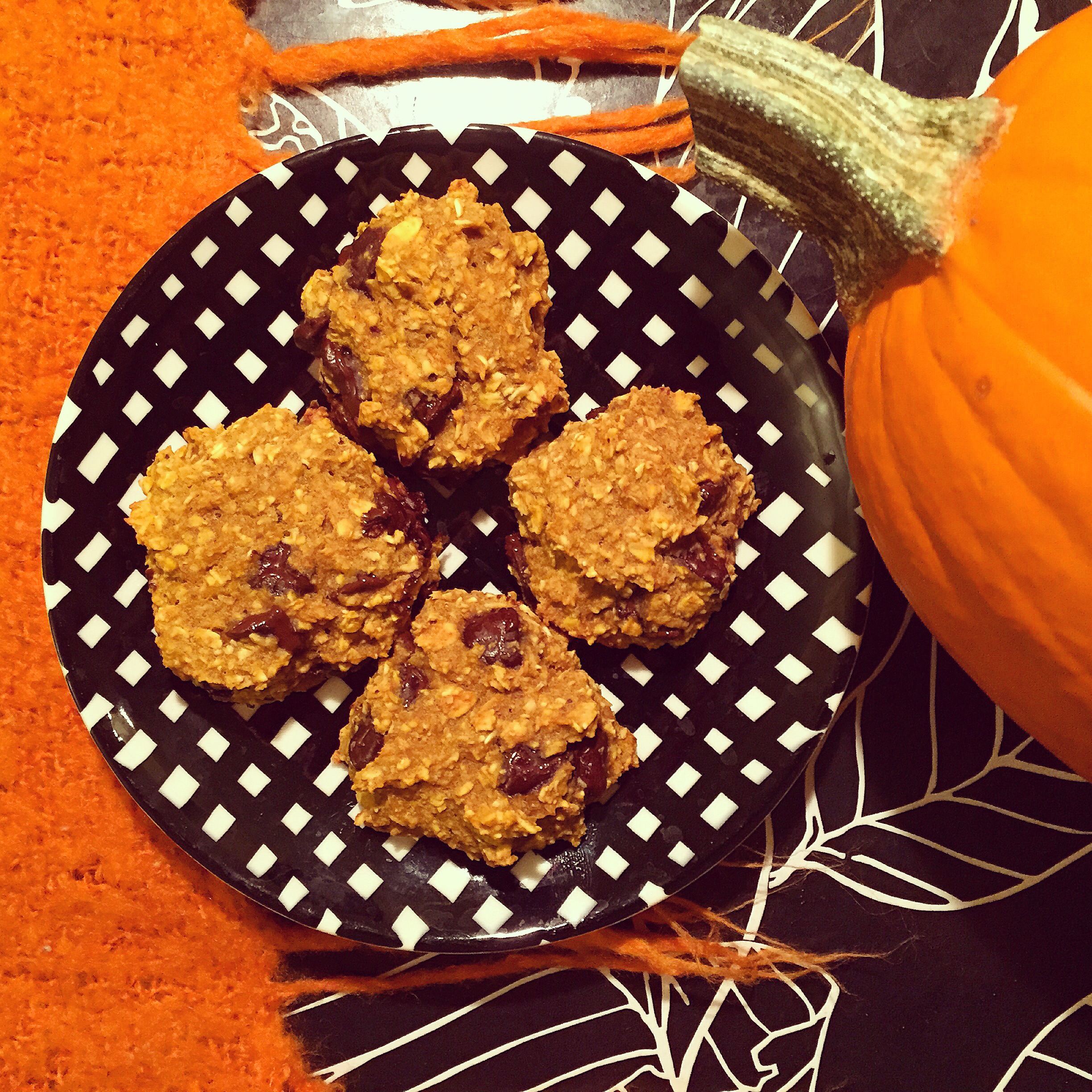 Finally a dairy-free, gluten-free, refined sugar-free, oil-free, nut-free, vegan Pumpkin Chocolate Chip Cookie Recipe!
This would also be great with cranberries or carob chips. This is a healthy, guilt free snack cookie, so let's get baking!
Ingredients:
2 Cups gluten-free oats
1 teaspoon baking powder
1 teaspoon Pumpkin Pie Spice
Sprinkles of cinnamon
2 ripe smashed bananas
3/4 cup Pumpkin
1 teaspoon vanilla extract
1 teaspoon blackstrap molases
1 tablespoon pure organic maple syrup
3/4 cup vegan chocolate chips, carob chips or cranberries.
Directions:
Preheat oven to 350° F
Food Process one cup of GF oats until it has more of a flour consistency. Pour into a separate bowl and combine with the other cup of whole oats and add the rest of the dry ingredients, baking powder, and spices. (Not the chocolate chips yet).
In your food processor, combine all wet ingredients, bananas, pumpkin, vanilla, molasses, and maple syrup. Once mixed, add in your dry ingredients until blended, then stir in your chocolate chips or other chips.
Line baking sheet with parchment paper and dollop your dough into 2 inch rounds. I baked mine for @ 20 minutes, give or take depending on how you like them.
TIP: If you don't have a food processor, just combine dry ingredients and mash wet ingredients then combine together as directed. This would also be AMAZING with a food processed Honey Crisp Apple instead of Pumpkin!
Enjoy!
~Jess