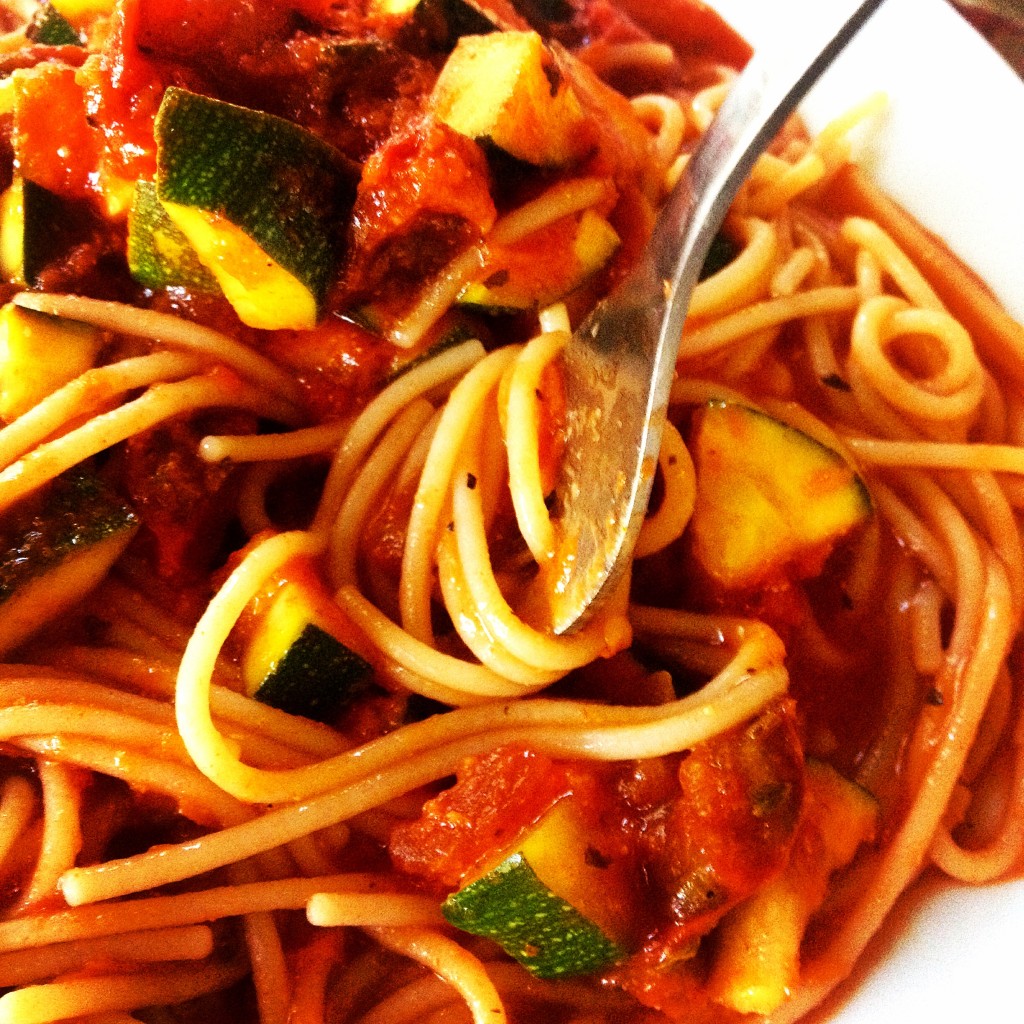 Boring spaghetti? I don't think so!!
No matter if you use a store bought base or if you make your own, you never have to have dull pasta again! Here are 5 tricks to revving up your pasta dish.
1. Add veggies! I ALWAYS add sautéed veggies to my spaghetti, start off with some garlic and red pepper flakes, add in red peppers, shredded carrot, zucchini, and finally spinach! Next, add your organic low salt/low oil red sauce or make your own using fresh tomatoes, tomato paste or a can of organic fire roasted tomatoes!!
Tip
Spinach is a great natural source of sodium so it adds the perfect amount of salty flavor to your pasta.
Shredding carrots into your sauce is a trick to give your sauce that sweet flavor instead of using sugar, fresh corn also works.
2. Don't forget the spice! Making your own red pepper olive oil is another simple way to add some flavor to your dish, simply sauté red pepper flakes in your olive oil for a few minutes (along with garlic too if you like) before adding your veggies. If you want a no oil dish, add some cayenne pepper to your sauce and it will be transformed!
3. Use your cast iron skillet! I love using my cast iron skillet to make tomato sauce, not only does it add flavor it gives you some extra iron in your diet (as much as 6 x the amount)! Also, organic tomato paste is an excellent source of iron and paired with your skillet you are getting twice the boost of iron to your daily intake.
4. Don't forget the noodles! Okay, who says you need to add gluten noodles to your pasta? Not me, never me! I like to use gluten free brown rice pasta, corn pasta or even zucchini zoodles! Why not a combo of both? Sometimes I will add a spiralized or Julienne peeled zucchini to my cooking pasta a few minutes before it is done to get more veggies in, give it a try!
5. Get creative with toppings!  Forget the cheese, there are plenty of other yummy options to spice things up. Fresh herbs like basil, cilantro and parsley taste great atop a hot dish. What about sliced avocado? Adding avocado will give your dish a creamy texture without the oil and dairy. Other options are crushed nuts like almonds/cashew/walnuts, sesame seeds, more veggies like tomatoes, or fresh greens! I love dumping my pasta right on top of my greens and eating them together!
Bon appétit!